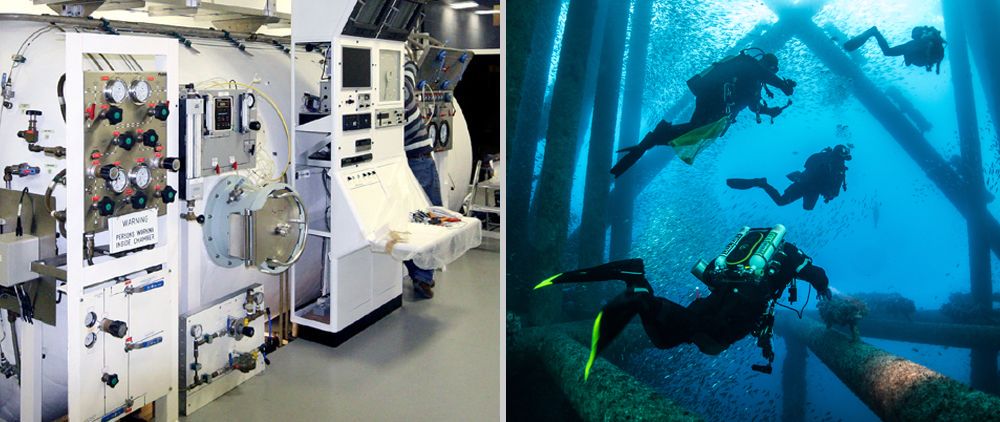 Sectors
Diving and Life Support
Based on our well-established range of stainless steel regulators, our range of brass regulators are cleaned and degreased within the guidelines of ASTM G93 for equipment used in oxygen-enriched environments where accurate control and high cleanliness are critical. All of products are designed and manufactured in the UK to the highest quality with full traceability on all machined parts.
Our pressure regulators cover a wide range of diving and life support applications including:
- Critical Life Support
- Hyperbaric and Decompression Chambers
- BIBs
- Diving Bells
- Control Panels
- Breathing Air Analyser Systems.
**** USEFUL LINKS ****
Pressure Tech Diving Regulators Overview
Brass Regulators for Diving and Life Support Flyer
A Breath of Fresh Air for the Diving Market' Flyer
Related Products
MF101D

Medium-Flow Pressure Regulator for Diving Applications: Gas / Piston / Self-Venting or Non-Venting / Max. Inlet: 300 bar (4,350 psi) / Max. Outlet: 40 bar (580 psi) / Cv 0.5

LF540

Low-Flow Pressure Regulator: Gas or Liquid / Piston / Self- or Non-Venting / Max. Inlet: 690 bar (10,000 psi) / Max. Outlet: 414 bar (6,000 psi) / Cv 0.1

MF300T

Medium-Flow Tracking Pressure Regulator: Gas or Liquid / Piston / Self-Venting / Max. Inlet: 300 bar (4,350 psi) / Max. Spring Adjust. Outlet: 25 bar (360 psi) / Cv 2.0

BIBS100

Built-In Breathing System Back Pressure Regulator: Gas / Diaphragm / Max. Rating: 50 bar (725 psi) / Control Range: 30 bar (435 psi) / Cv 2.0